OS.pos: the multi-functional Cash-Register Software
This application is reliable and flexible. Open Standards Point of Sale provides all the functions and interfaces your cash register needs – and it is easily adapted to new requirements. Its modern user interface is appealing and intuitive-to-use. Its back-end handles all necessary functionalities and facilitates compliance. OS.pos is compatible to all ERP systems. It can be run standalone, client, on premise or cloud. Based on the OSBP project, OS.pos is part of the Eclipse ecosystem.
For wholesale, retail and applications just about everywhere: OS.pos can be employed anywhere a cash-register solution or frontend is needed: in groceries, gas stations and delicatessens, in hotels, hospitals and home-design shops, in bakeries, boutiques and butcher shops, by specialist dealers for sporting goods, replacement parts or office-supplies – you name it. Plus: OS.pos supports multiple languages and currencies, making it truly international.
Smart design boosts productivity: Register products and services with a minimum of entries. Make use of the intuitive handling, made possible by the well-thought-out, appealing design of the touch-enabled user interface.
Full-scale functionality: Everything you need to manage customers, articles, prices and quantities. Conveniently handle couponing, cancellations and returns, or shop-in-shop processes. Facilitated by features like slip-parking and as many short cuts as you choose to configure. Make full use of sophisticated management features, like the end-of-day closeout that supports a multitude of payment methods (credit cards, customer cards etc.), sales slip, invoice and receipts, along with multiple currencies.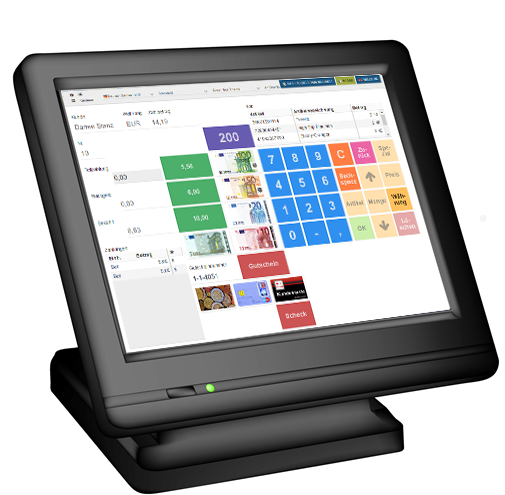 Speed: Generate sales slips and even documents (invoices, delivery notes) instantly. Scanner, touchscreen and software features, like article lookup or quick-access buttons, will make your actions swift and precise. Quick operation and short training times thanks to the ergonomic one-touch principle and efficient work flows.
Central data maintenance: OS.pos can be scaled to as many cash registers as you want. At the same time, it allows you to administer your data centrally, ensuring that it is kept constantly correct at all points-of-sale. Regardless whether you do this in the head office or the back office – wholesale, branch retail and others will profit from this capability.
Compliance: OS.pos supports compliance to Germany's GoBD and GDPdU governmental regulations, and can be expand to any other regulation.
Team player: OS.pos can be integrated with merchandise management, logistics and accounting software. It supports omni-channel processes, as it seamlessly connects to any sales channel. OS.pos can be easily adapted to new requirements.
Standalone and scalability: Decide for yourself whether you prefer to run OS.pos as a standalone solution, client or cloud. OS.pos continues to fully function as a register in off-line mode. The software can be scaled up to several thousand point-of-sale devices. It supports the management of multiple cash drawers and vaults.
Supported hardware: PC or mobile device as cash register. Full range of peripheral devices, including touchscreen, keypad, scanner, electronic cash terminal, cash drawer, signature pad, customer display (plus and additional ones), receipt printer, document printer, label printer, electronic shelf labels (ESL).
Supported software: OS: Windows, Linux, iOS. Browsers: Internet Explorer, Edge, Chrome, Firefox. Databases: Oracle, MySQL, DB2, Microsoft SQL Server, HANA, PostgreSQL, Sybase and many more.